Learn about Nature,
Environment, History, and Culture
[Special Feature]
Introduction of Hands-on Experiences
A true pleasure of the countryside: Picking and eating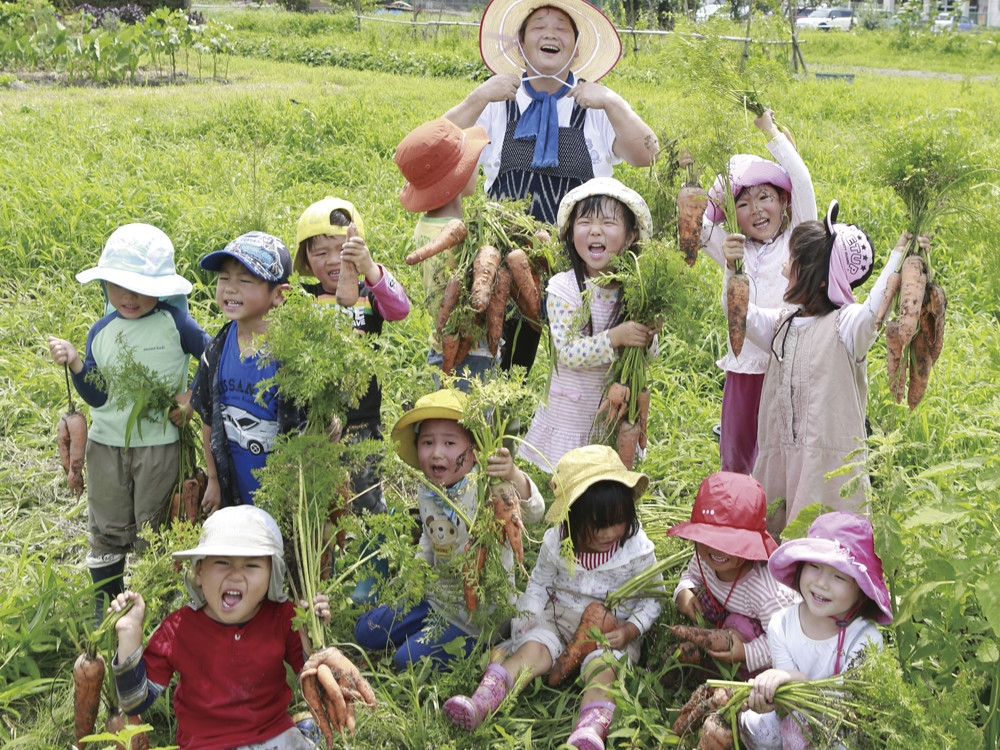 The scent of soil, the coldness of the water, the joy of bearing fruit
Fields are treasure chests packed with nature.
The sun, the energy of the earth, and vegetables growing vigorously amid weeds. Vegetables grown through natural farming can be harvested and enjoyed on the spot. The succulence and rich taste of the vegetables are surprising. The experience of "picking and eating" is the greatest pleasure of the countryside. I visited Machiko Farm in the city of Yasugi, which conducts food education under the motto "Living is eating."
The energetic voices of children echo in the fields under the hot summer sun. This is Machiko Farm, sited on the Hakuta River in Yasugi. Run by Machiko Nishimura, the farm uses no pesticides or chemical fertilizers. It creates soil from fertilizers such as EM bacteria, rice bran, vegetable scraps, and mineral-rich seaweed, and grows vegetables through natural farming methods.
Today, kindergarten children have come to harvest vegetables. "Let's all pick tomatoes! You can eat them if you like. They're very sweet," says Machiko. The greenhouse is full of bright red ripe tomatoes. The children's small hands carefully harvest tomatoes from plants taller than the children. "They're sweet. They're good! I'm going to give these to my mom," say the children, holding plastic bags full of tomatoes as gifts.
"Let's dig up carrots next!" says Machiko to the children, who are more keen to play in the river than in the fields. Water striders, crayfish, crabs, minnows . . . The children wade barefoot into the river, holding nets. Their shining eyes look for something to catch.
"The children are playing in the fields and river, and the earth is happy. I'm happy too." Smiling, Machiko watches the children at play. She also engages in food education activities so children will feel the importance of food, through the simple experience of picking and eating vegetables in nature.
When the dirt-covered carrots have been harvested, it is finally time for lunch. Today, we attempt making stick bread from dough wrapped around bamboo sticks. We bake the bread slowly over the residual heat of the charcoal fire. When the color is golden-brown, the fluffy bread is ready! The shapes are varied, but the taste of bread baked yourself is exceptional.
The harvesting experience, carried out with a good sweat while enduring the sun, created a great memory of summer for the children.