Learn about Nature,
Environment, History, and Culture
[Special Feature]
Introduction of Hands-on Experiences
Enjoying the island sea, learning about nature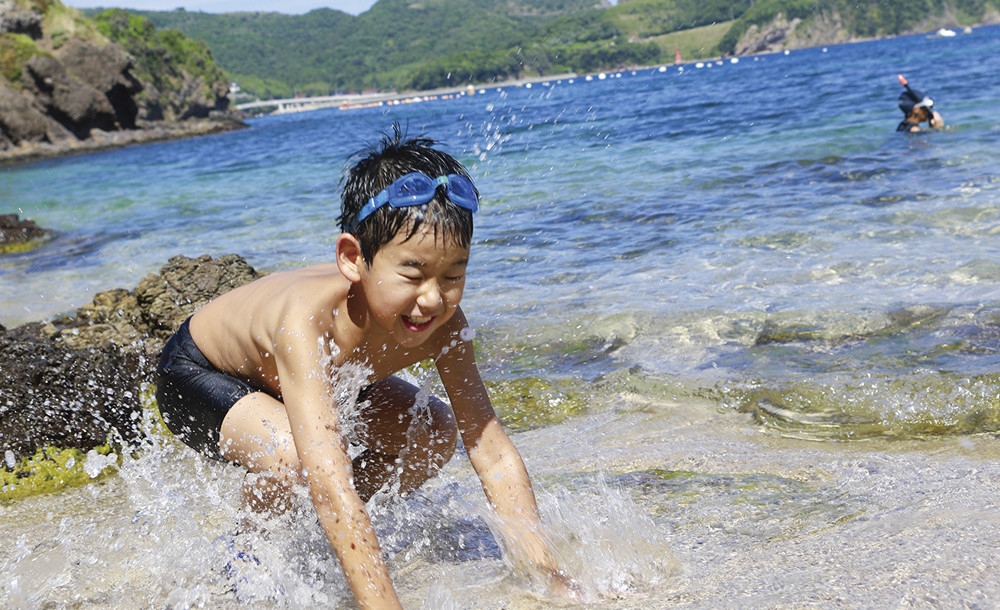 Enjoying island fun on Chiburijima Island
in the Oki Islands, embraced by the sea
The Oki Islands lie about 50 km to the north of Shimane Peninsula. Of over 180 large and small islands in the chain, people live in the four islands of Dogojima (Okinoshima) and Dozenjima (Chiburijima, Nakanoshima, and Nishinoshima). In the past, Emperor Go-Toba and Emperor Go-Daigo came to these islands in exile. Oki is an island chain formed by volcanoes. Known for the structure of its land, its unique ecosystems, and for human activities and culture from ancient times, it was recognized as a Japan geopark in 2009 and a global geopark in 2013. I am heading for Chiburijima in the Oki Islands, an area rich in nature!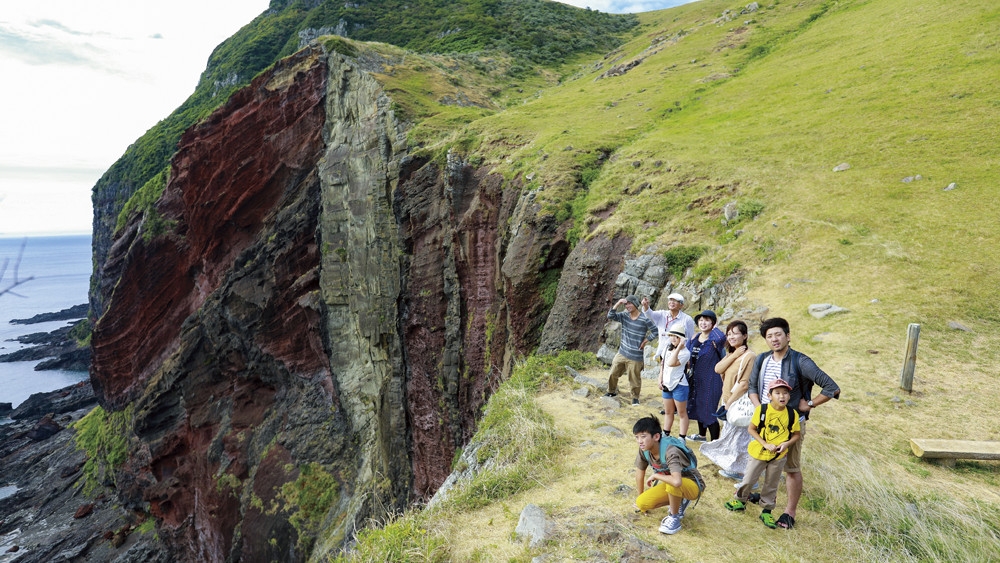 The trip over the waves by ferry from Chichirui Port in Matsue takes about two hours. I arrived at Kurii Port in Chiburijima.
My guide on Chiburijima is Hiroshi Kashima, a Shimane Prefecture registered tourism guide and the proprietor of Tsuruya, which engages in rural tourism. "Chiburi is the most relaxing of the Oki Islands, for both people and cattle. All right, let's go to Akakabe together," he said, driving the rental car.
The road leading to Akakabe is a winding island path. To my surprise, cows are nonchalantly walking and lying on the road. It feels as if humans are intruding in on the lives of the cows. Nevertheless, the cows leisurely move away from the car, and we manage to reach Akakabe.
Sky and sea, wind and sound
The clear blue that reflects these
recalls a nostalgic summer day.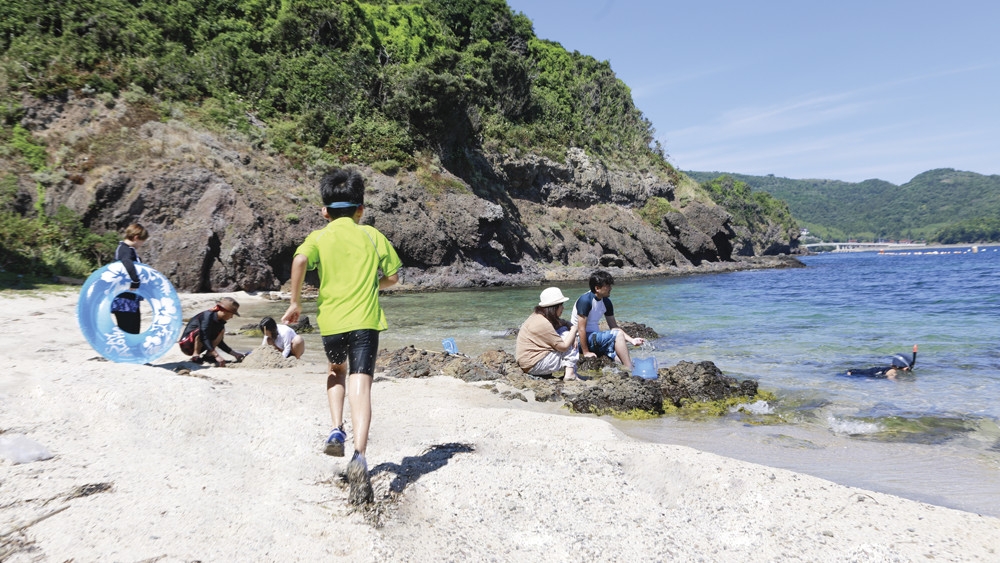 Akakabe is a giant rock ranging 50m to 200m in height and extending for about 1km. Changing in color among red, brown, and black, the rock has become a cliff through erosion by waves and wind. It impresses up close, but people with a fear of heights may feel dizzy.
Other highlights include Mount Akahage, which offers a panoramic view of the Sea of Japan and neighboring Nishinoshima Island, and Shimazujima Island, with its mysterious eroded, white topography. Naturally, visitors can enjoy marine sports and swimming in the ocean here. Just floating in the emerald-green sea gives a great sense of release. Here you can refresh yourself through energy and healing from the sea, sun, wind, and plants.
In the evening, I enjoyed a seafood barbecue at Kotou, an old-fashioned inn. Together with proprietor Yuriko Yada, I cooked horned turban sea snails, Oki beef, and "bomb rice balls" made with unprocessed nori seaweed exuding the scent of the beach. This bounty of the islands was deeply satisfying. I relaxed thoroughly, gazing at the starry sky.
Chiburijima is an unaffected island where people live in nature's embrace.