Learn about Nature,
Environment, History, and Culture
[Special Feature]
Introduction of Hands-on Experiences
A Stroll about a Port Town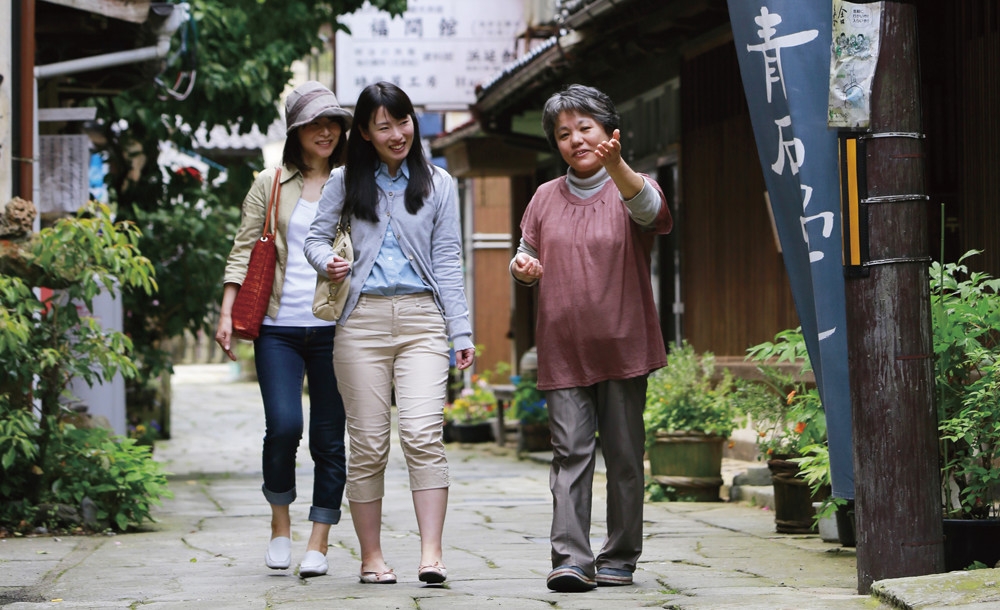 A stroll through a historic port town amid
a gentle sea breeze, feeling the days of yore
The town of Mihonoseki has long prospered as a port awaiting the sailing wind. In the Edo period, it was a bustling port town with many shipping wholesalers, and served as a trading post for ships known as kitamaebune. Today, I am shown about town by a guide from the Mihonoseki District Revitalization Council.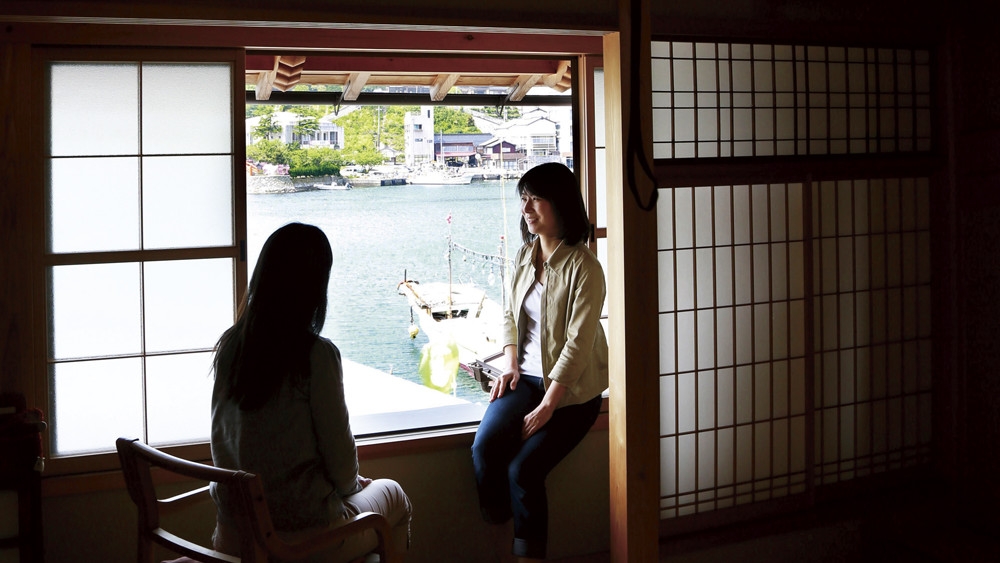 Mihoseki is known most of all for Miho Shrine. My guide took me to the front gate. There are souvenir shops on Monzen-dori Street, and the fragrant smell of grilled squid cooking at the storefronts seems to bring shrine visitors wandering in.
"This is the head building of the shrine that venerates the god Kotoshironushi, familar by his nickname Ebisu-san. It is an old shrine associated with business prosperity and maritime security," says my guide. Persons worshipping for the first time at a shrine can learn the etiquette for worship, purification before worship, and so on from guides. A bracing sea breeze blows over the visiting path. Entering the precincts, one sees shrine maidens known as miko. The main shrine is Miho, which consists of two grand shrine buildings. It is said that Miho Shrine is the only shrine in Japan with this magnificent construction.
Next, I head from the visiting path to Aoishiodatami Street. This is a main street that once flourished as the approach to the shrine gate. With its row of wooden buildings, it seems as if a retro movie set. People live normal lives here, though, and neighborhood grandmothers walk down the street with shopping baskets.
"The Echigo stones paving this street were carried by kitamaebune ship. They turn blue when wet by rain, so the street was named Aoishidatami (blue stone mat)," explained my guide. I walk slowly on this quaint street, feeling the stones under my shoes and seeming to slip back in time to days of yore.
Next up is Bukkokuji Temple. The air became a bit dignified as we approached the temple. "This was originally a historic old temple called Sanmyoin, and was the imperial chamber where Emperor Go-Toba and Emperor Go-Daigo waited before sailing to Oki in exile. There are five Buddha statues carved from single trees, each of which is an Important Cultural Property." Although the temple is small now, my guide says that it was large in the past.
Lodging that night was at Hashizuya. The inn is renovated from the old private home of a fishing boat keeper, and is now a lifestyle experience facility for promoting return to the region or migration to and settlement in the region. Windows on the second floor offer a view of the sea, as well as of the distant mountain Oyama, also known as Izumo Fuji. I enjoyed a peaceful time in this historic sea town, taking in the sound of the sea.